Design
Features
Output
Cables
Spec
Gallery
Description

DA 500-M has up to 85% electrical efficiency enabling lower heat generation and lower operating cost. Outstanding and stable performance makes it one of the ideal choices for multi-purpose usage. Double layer EMI filters protect from magnetic interference and restrains noise while operating.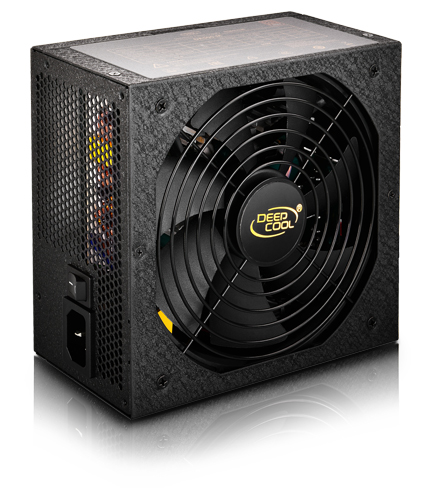 up to 85% efficiency(230VAC)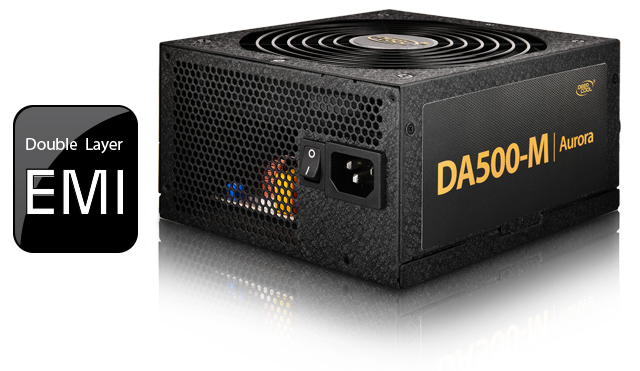 Double Layer EMI Filter
Double Layer EMI Filter ensures low level of electromagnetic interference to keep your electronic devices uninterrupted.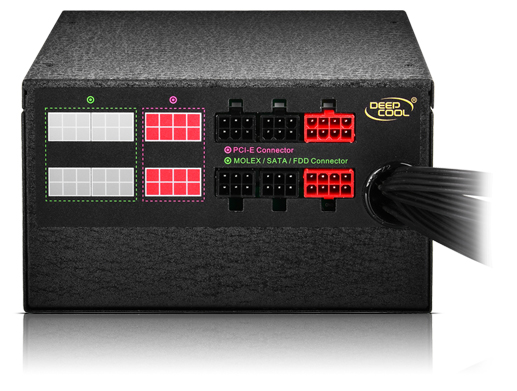 Modular Cable System
With modular cable system, you can connect only the cables you need to ensure a tidy and nice-looking case.
Compliant Intel ATX12V v 2.31;
The integrated Active PFC PWM Combo Controller will increase the efficiency of exchange and make PFC higher than 99%;
up to 85% efficiency;
Assembled copper AL heatsink make cooling more efficient;
14CM silent fan with PWM function;
Modularized flat cabling design reduces the resistance of airflow by a regular cable layout, and increases the cooling capability of system;
Double-Layer EMI Filter protects from electromagnetic interference & restrains noise;
Intelligentized eco-friendly chipset, consume < 1W in its off-mode, compliant Erp standard;
CircuitShield™ —OVP, UVP, SCP, OPP;
Supports Multi-Way SLI / CrossFire Multi-Core CPUs.
AC INPUT
VOLTAGE
CURRENT
FREQUENCY
200-240V
4A
47-63Hz
DC OUTPUT
+3.3V
+5V
+12V
-12V
+5VSB
CURRENT(Max)
18A
18A
38A
0.3A
2.5A
OUTPUT(Max)
110W
456W
3.6W
12.5W
TOTAL OUTPUT
500W
Mainboard (24Pin)
EPS ATX12V (4+4Pin)
PCI-E (6+2Pin)
1
1
2
SATA
Peripheral (Big 4Pin)
5
3
Technical Spec
Model
DA500-M
Type
ATX 12V V2.31
Dimension
150×160×86mm (W x L x H)
Output Capacity
500W
Input Voltage
200~240V
Input Current
8A
Input Frequency Range
47~63Hz
Fan Size
140mm
PFC
Active PFC (>0.99)
Power Good Signal
100-500ms
Hold Up Time
>16ms
Efficiency
80% Under Typical Load
Protection
OVP / UVP / SCP / OPP
Operation Temperature
0~40°C
Regulatory
CCC / CB / CE / EAC / TUV
MTBF
120,000 Hours