Design
Features
Performance
Environment
Spec
Gallery
Downloads
Slim & Portable & High Performance
The black is everlasting classics
WIND PAL FS' big flat metal mesh and environment friendly plastic base are both in black and high quality, its entire black appearance makes you feel WIND PAL FS an everlasting classis design.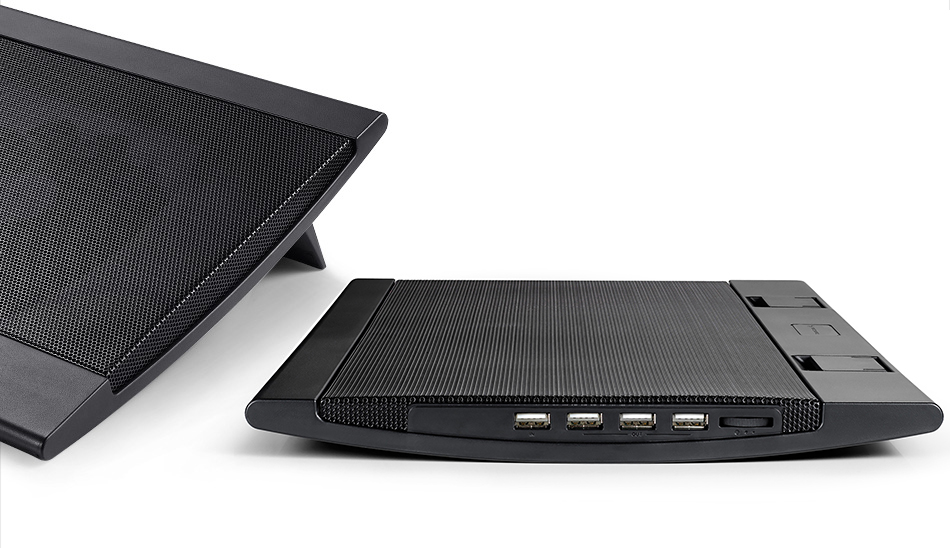 As stable as a ship in the deep ocean
WIND PAL FS' base is in the type of arc, this makes its structure like a ship in the deep ocean. Big metal mesh as the deck covers the ship, offering a flat and tidy working surface. WIND PAL FS will make you feel on a ship while surfing in notebook!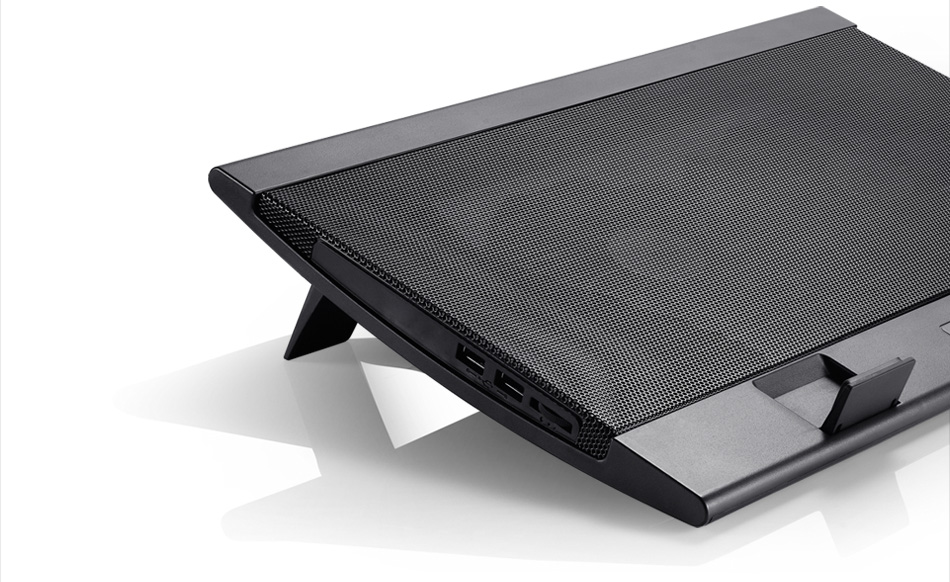 Material
WIND PAL FS has a big metal mesh, environment friendly ABS+PMMA plastic base, and soft silica gel pad. All these materials display their high quality from deep inside, and imply your style of being fashionable and a decent business man.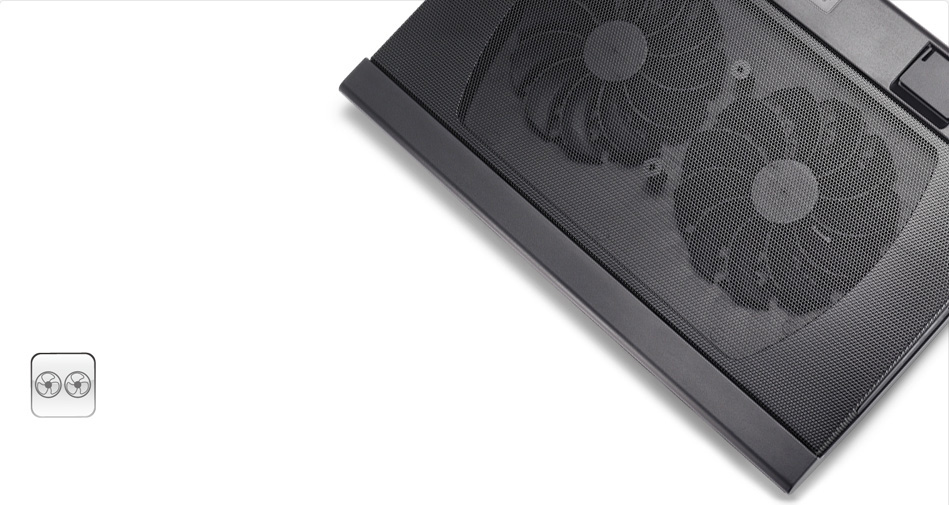 Two 140mm fans
As one of the basic characters of WIND PAL series, WIND PAL FS has functional components undoubtedly. Two 140mm fans entitle WIND PAL FS strong power and staring appearance.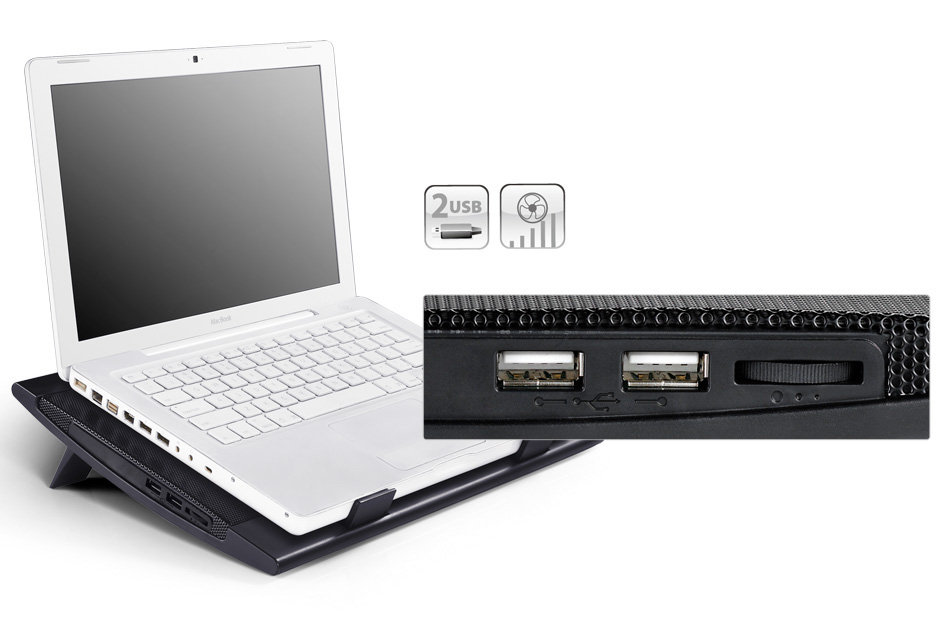 Two kinds of main function
WIND PAL FS has standard USB hub with 2 ports embedded, make you feel convenience when need external USB devices. And you may balance between noise and cooling performance under the help of fan speed control button, this will help you to be a environment friendly human being.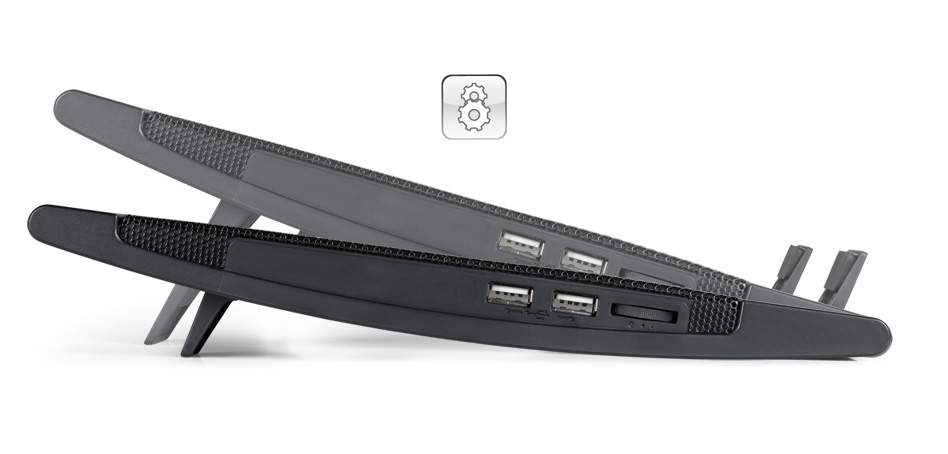 Two using angles
WIND PAL FS is considerate because it has two different using angles, you may select your own one according to your feeling of ergonomics.
Two 140mm fans, big air flow and low noise.
Metal mesh front panel and dual 140mm fans provide excellent cooling performance.
2 USB ports for additional USB devices.
Fan speed adjustable for the balance between performance and airflow.
Two viewing angles available for the most comfort in use.
Anti-slip buckle to protect your notebook safety.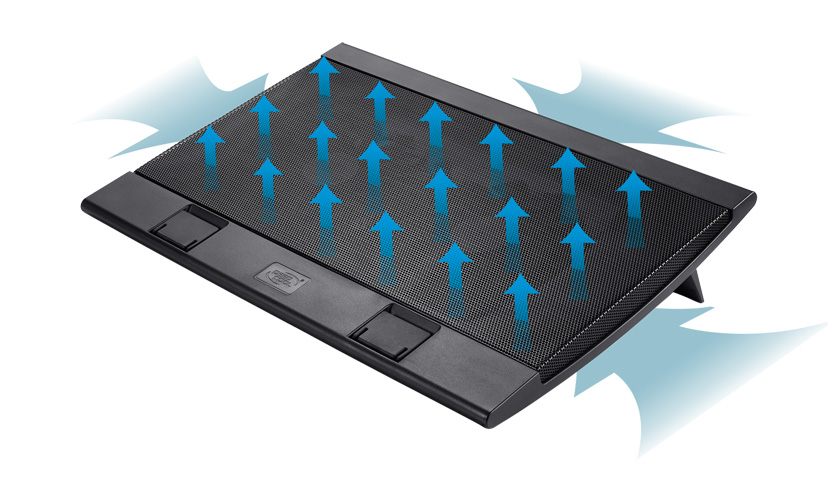 Nowhere is missed by two fans working together
WIND PAL FS protect your entire notebook from being too hot, not the CPU position only. Its two fans located on both sides, work together to assure the air flow touch everywhere on the bottom of your notebook.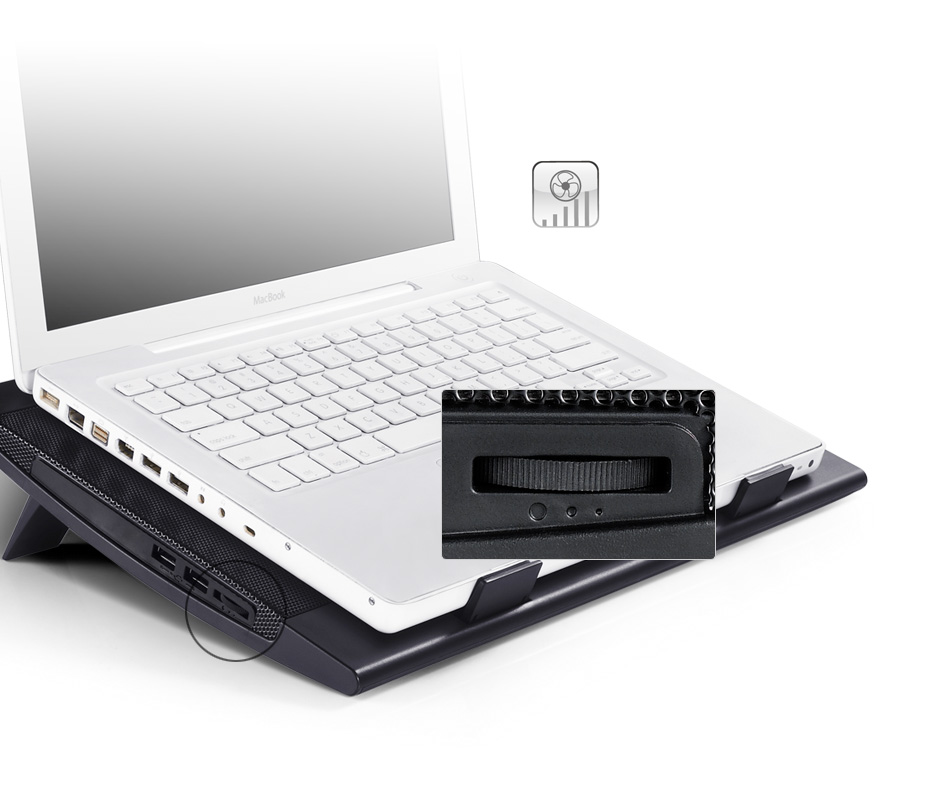 Fan speed is in the control of you
In addition to the feature of being portable, you may balance between noise and cooling performance under the help of fan speed control switch, WIND PAL FS gives you more scope to act as to your wish.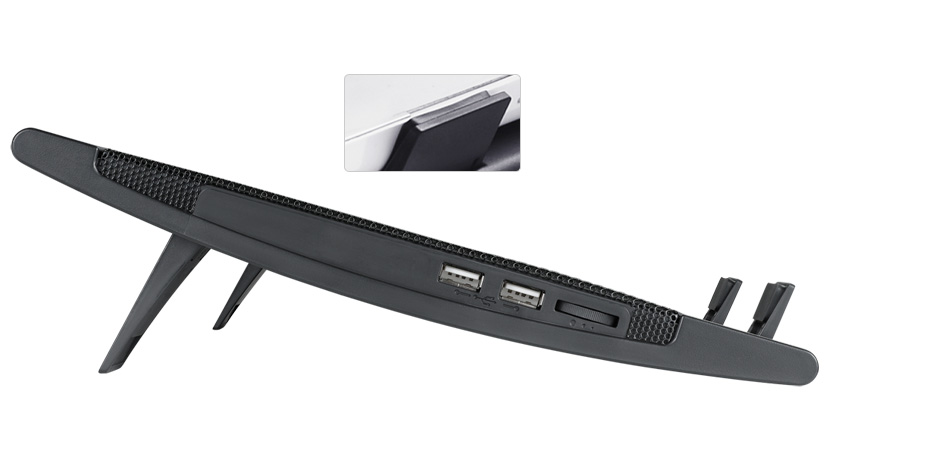 Antifriction,Durable silica gel pad protects your note book for a long time
WIND PAL FS has small folded feet at the bottom of the panel, and are stuck with soft silica gel pad, it stop the notebook from slipping off and protect the edge of the notebook from scratches. The silica gel pad is durable and will protect your notebook through the entire lifetime of WIND PAL FS.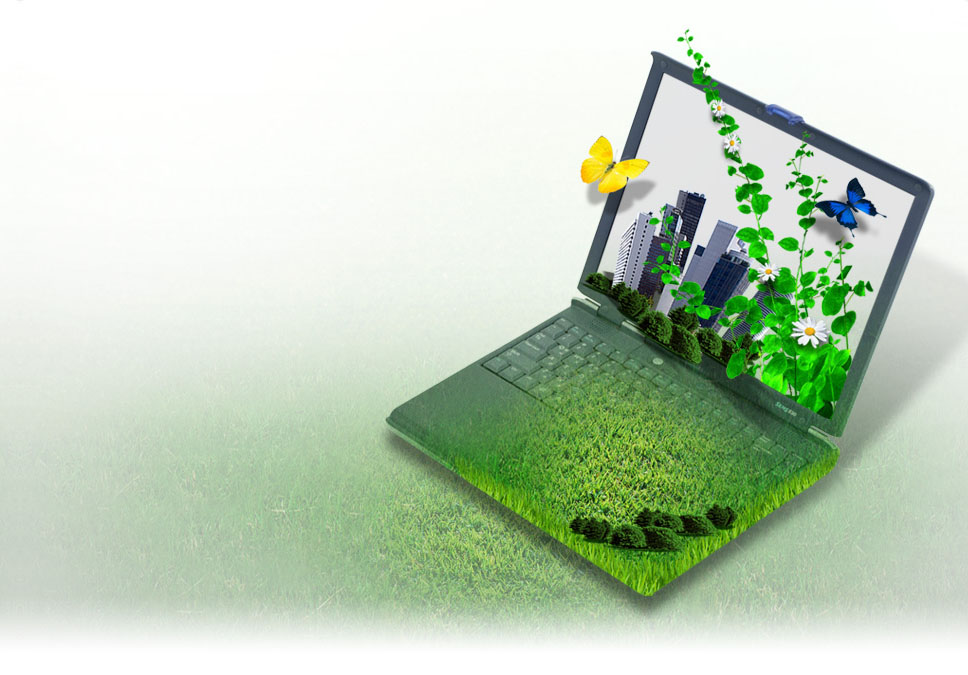 Environment friendly materials assure your high-quality life
WIND PAL FS' materials are all in compliance with RoHS, packages are recyclable, it is indeed born with the theme of being environment friendly. In additional to its ergonomic designs and considerate features, WIND PAL FS shows your style of being fashionable, environmental, business and cool wherever and whenever you use it.
Application For
Compatible with 17" notebooks and below.
Technical Spec
| | | | | | | |
| --- | --- | --- | --- | --- | --- | --- |
| Overall Dimension | | Fan Dimension | | Net Weight | | Bearing Type |
| 382X262X24mm | | 140X140X15mm | | 793g | | Hydro Bearing |
| Rated Voltage | | Operating Voltage | | Started Voltage | | Rated Current |
| 5VDC | | 4.5~5VDC | | 4VDC | | 0.19±10%~0.32±10%A |
| Power Input | | Fan Speed | | Max. Air Flow | | Noise |
| 0.95~1.6W | | 700±150~1200±10%RPM | | 115CFM | | 21.5~26.5dB(A) |