Awards
Design
Features
Performance
Environment
Spec
Gallery
Downloads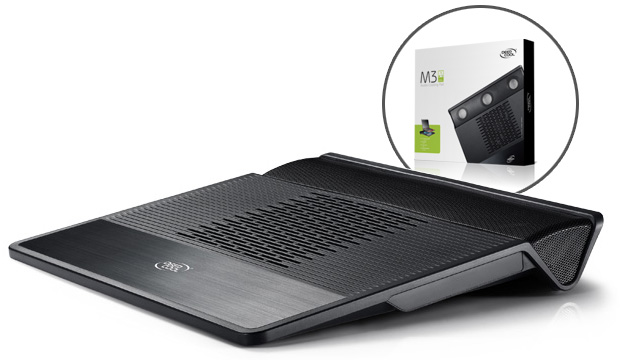 High Cooling Performance & Super Sound
Music - Trio
The name "M3" was inspired by "trio", a classical music form, which is widely known for the form of "piano trio" — piano, violin and cello — and the "string trio" — violin, viola and cello. With built-in speakers inside, M3 tries to provide you more pleasant experience when you enjoy your music.

Sleek Appearance Design
The cooling base is made of high quality HIPS material in a simplex design; but the V shaped speaker cavity area can easily catch your eyes easily because of the colored metal mesh.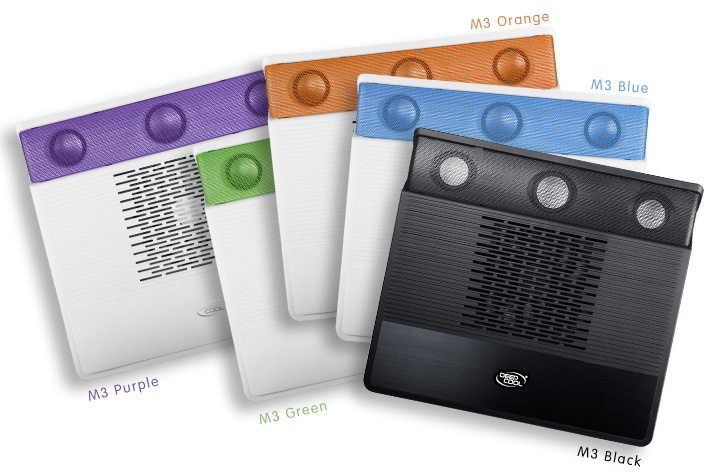 Brilliantly-colored
Through different color matches, the innovative audio notebook cooler M3 is trying to show you the color of music: Black hard rock, Blue symphony, Orange country music, Green glee, Purple tranquillo music. Life is brilliant and music has colors!
Super Sound
M3 is the first notebook cooler with built-in 2.1 speaker system in the industry, featuring two tweeters on the side and one woofer in the middle, which forms 3D surround sound effect. With a standard 3.5" audio jack connector, you can easily listen to music from your laptop, iPod, iPhone, and any other music player.

Ergonomic Design for Health
To provide the most comfort in use, M3 has an ergonomic viewing angle at 8°, which can ease the spiral strain and protect you from being tired in a short time.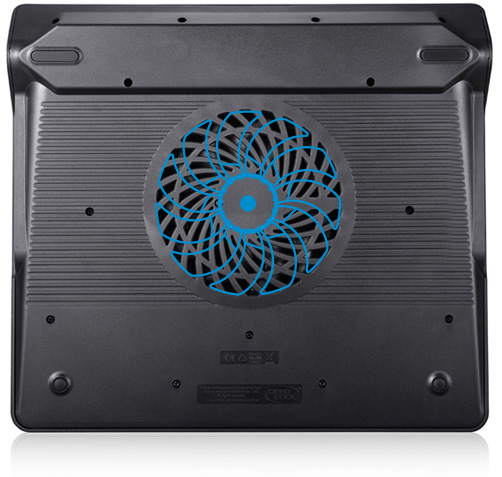 High Cooling Performance
With a big 14cm fan running at 600 to 1100rpm, M3 provides with excellent cooling performance for your notebook. And the fan speed can be adjusted by the knob on the side of the cooler for a balance between performance and noise.
2.1-channel speakers & 2.1 multimedia audio systems with excellent sound;
Build-in magnetic loudspeaker with two damping chamber in the main body to protect your notebook safety;
The standard USB port and USB-powered for the most comfort in use;
Integration of speaker and cooling design;
Standard 3.5MM audio port, Plug and Play without drive makes more convenient;
Fan speed is in the control of you which meet the multiple balance of quiet and air volume;
M3 with fashion appearance offering five choices of M3 black classic, M3 blue smooth sound, M3 orange storm, M3 green prairie, M3 purple dream.

V.A.D. Vertical Airflow Design
The innovative Vertical Airflow Design allows more airflow through the cooling grooves, hence improves the cooling performance a lot.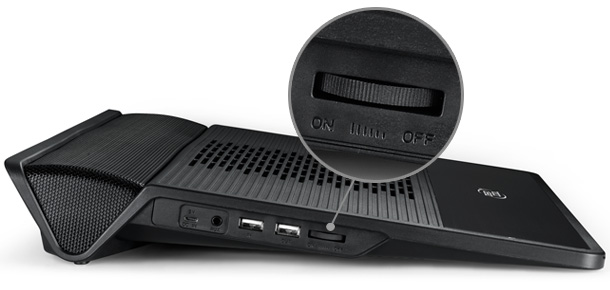 Fan Speed Adjustable
For a perfect balance between cooling performance and silence in use, M3 has a control knob to adjust the fan speed as you wish.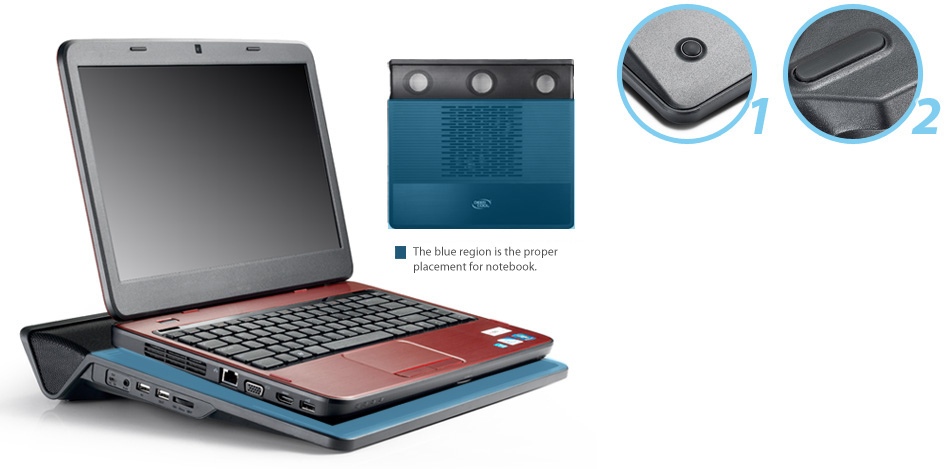 Safe Use with Anti-slip Rubber
High quality anti-slip rubber feet are installed on the back of M3 to provide a steady cooler stand for your notebook. And it is highly recommended to put your notebook in the correct position as illustrated, not only for notebook safety but also for optimal music experience.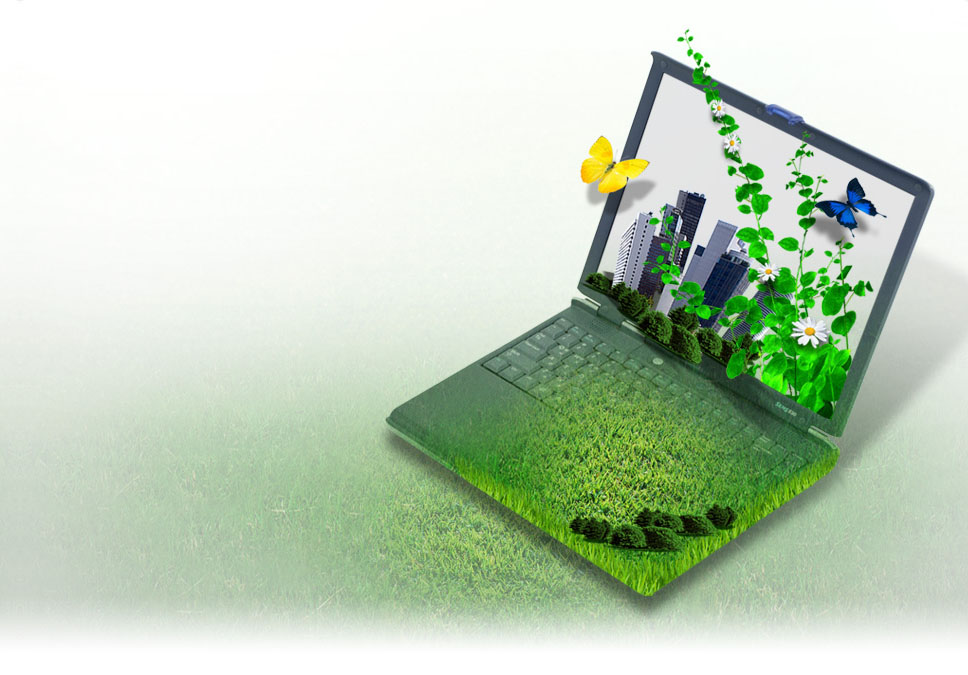 All for Health
We love the nature. Eco low carbon is the idea to save the energy and save the earth. Every piece of M3 is RoHS certified and recyclable. Moreover, the inner-magnetic speakers and damping chamber all care for users' health.
Application For
Compatible with 15.6" notebooks and below.
Technical Spec
Overall Dimension
Fan Dimension
Net Weight
Bearing Type

360X327X54mm

140X15mm

1100g

Hydro Bearing

Rated Voltage
Operating Voltage
Started Voltage
Rated Current

5VDC

4.5-5.5VDC

2.8VDC

0.5~1.0A

Power Input
Fan Speed
Max. Air Flow
Noise

2.5~5W

700±150-1100±10%RPM

47.35CFM

21dB(A)

Frequency Response
Tweeter
Woofer
Sensitivity
180Hz~15KHz
2inches(52mm)+2inches(52mm)
2.25inches(57mm)
450±50mV
Audio Adapter
Antimagnetic Function
3.5mm
Available
Product Dimension